In 2019, WWF partnered with staff from Greenline Africa, a local community-based organization, to conduct 44 interviews near Victoria Falls in Zimbabwe's Matabeleland North province. This part of the country lies within the Kavango Zambezi (KAZA) Transfrontier Conservation Area, where nearly half of Africa's elephant population reside. Prolonged drought and changes in rainfall patterns have greatly impacted the livelihoods of people living in here. Insufficient water combined with an increase in prevalence of pests has contributed to crop failure or very limited production according to roughly half of farmers surveyed, and the majority of farmers had witnessed declines in livestock health and production due in part to the lack of sufficient grazing area. In response, many farmers report turning to more resource intensive alternative livelihoods like brick-making, which can significantly impact tree cover, and are forced to compete with wildlife for increasingly scarce resources like freshwater.
In April 2019, WWF and Greenline staff met with the community to present these findings and discuss adaptation options. Based on these dicussions, water security was identified as the primary concern. Project activities will help improve water access for community members and thereby support local livelihoods impacted by drought. The rise in deforestation will also be addressed through fuel efficient stoves and tree planting efforts.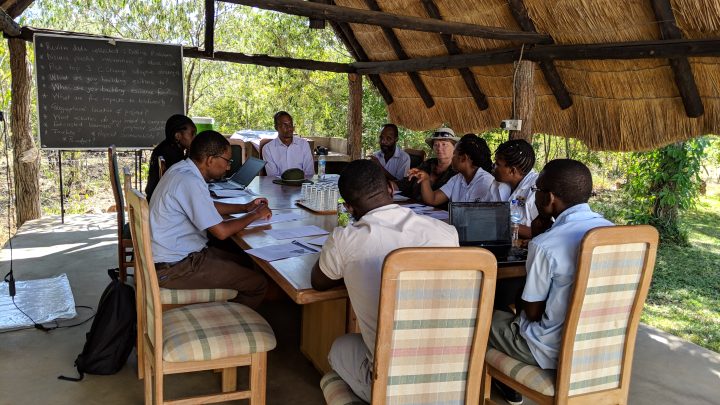 Activities
Target communities, together with Greenline and WWF, have accomplished the following:
Installed a rainwater harvesting system using plastic tanks connected to rooftop gutters at a local primary school.  Community members were involved in installing the rainwater harvesting system, and were trained in maintaining and managing the rainwater harvesting system, including cleaning the roof and gutters, and purification of the water as necessary.
Upgraded a community hand-pump borehole to a submersible, solar powered borehole. Community members were trained on routine maintainence of the pump, and a drip irrigation system was installed.
An automated weather station was installed and connected to the National Meterological authority in Zimbabwe, giving farmers better weather information to plan planting and harvesting dates accordingly.
Provided pre-fabricated Tsotso fuel efficient stoves as an alternative cooking method to offset the impact of alternative coping strategies on tree cover and decrease the overall time spent by women collecting resources for households, which has increased due to drought.
Traditional leaders were trained in catchment management and tree planting in schools, clinics and throughout the community.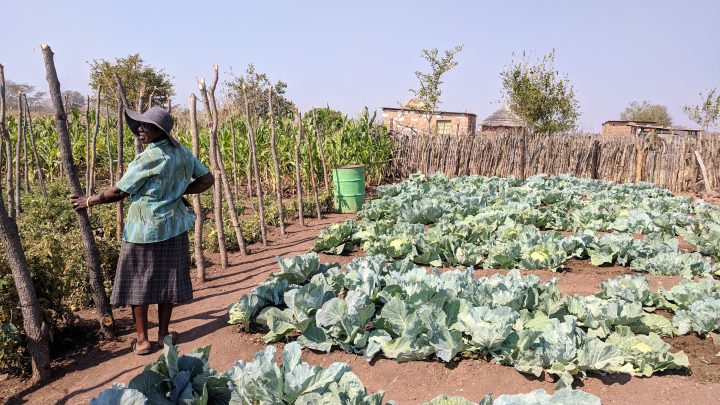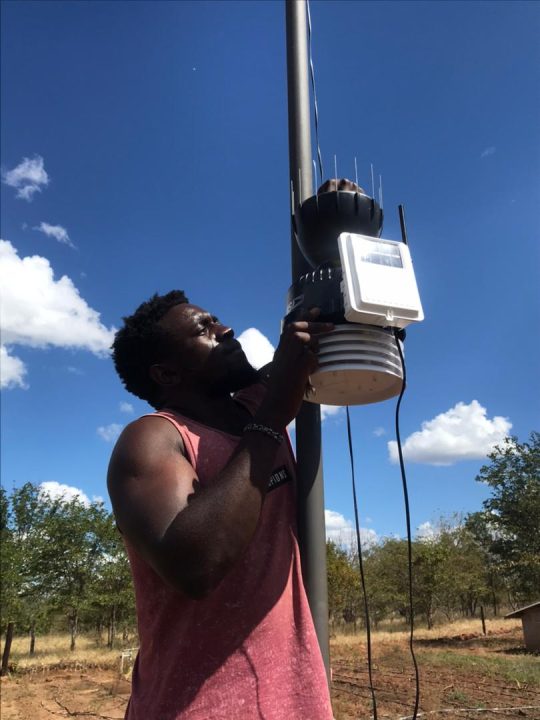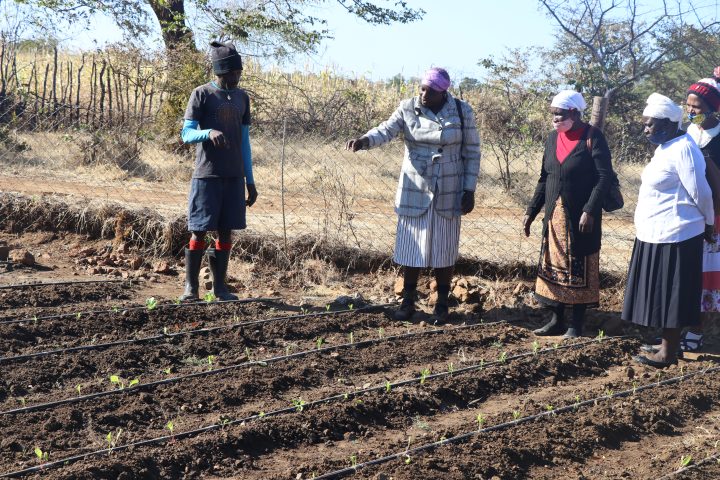 Materials
Water tank
Gutters
Piping
Tsotso stoves (22)
Solar panels
Pump
Stand
Indicators
Direct outputs:
One rainwater harvesting system installed with capacity to hold 5,000 liters
One borehole upgraded to solar power
Three 1/4 hectare gardens established
1,000 trees planted throughout community
22 clean stoves distributed to households in the communities
one weather station installed
Impact:
Rate of deforestation is reduced
Water access is improved
Time spent collecting water and firewood is reduced
Incidence of human wildlife conflict is reduced