Indigenous, local, and traditional knowledge systems and practices, including indigenous peoples' holistic view of community and environment, are a major resource for adapting to climate change, but these have not been used consistently in existing adaptation efforts. Additionally, communities lack the resources to help them improve, implement and scale these efforts, and ensure that protecting nature is at the heart of the project outcomes.
The Climate Crowd Approach
Climate Crowd is a bottom-up community-driven initiative. Working with communities and local organizations in over 30 countries, we collect data on climate impacts to communities, analyze the data, present the data back to the communities, and work with them to develop, fund and implement on-the-ground solutions that help people and nature adapt to a changing climate.
We partner with in-country local organizations to collaborate with communities they have existing relationships with.
We approve and post reports to the website, which can be accessed on the map.
Data analysis and summary reports
As the majority of information collected through key informant interviews is qualitative data, we analyze the data to produce summary reports, by country or thematic area. We also work with local partners to present the data back to the communities, a crucial part of the Climate Crowd process.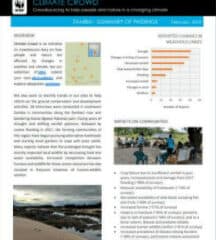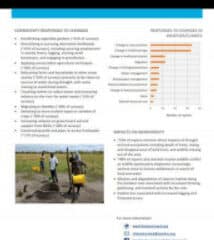 On-the-ground projects
Based on the data collection and analysis, we work with communities to develop and implement on-the-ground projects which help people and nature adapt to a changing climate. Climate Crowd funds these pilot projects, with a view to replicating successful solutions and taking them to scale.
Subscribe to our monthly newsletter