Purpose
Combat childhood malnutrition in communities affected by rising temperatures and drought.
CLIMATE IMPACTS
Community members from San Antonio Ilotenango report the following impacts:
Widespread water insecurity
due to weak and infrequent rainfall and shorter rainy seasons
Severe crop loss
from intensifying dry spells
Chronic malnutrition
from agricultural declines
Increased use of pesticides and fertilizers
Increased deforestation
to expand viable agricultural land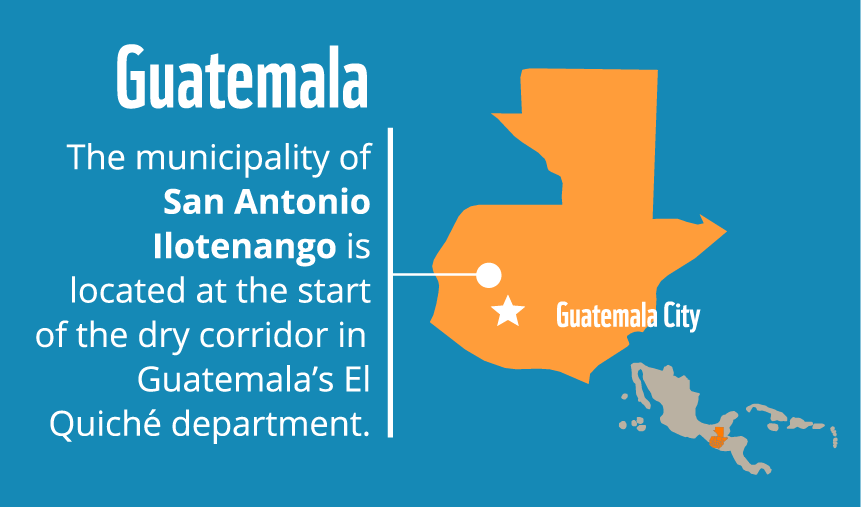 School visits
The project began with a series of school visits to assess the feasibility of a water capture project and gauge interest for collaboration.
irrigation system design
The project team selected the design and layout of the water capture and irrigation system based on input from experts from a local NGO called Water for People.
installing rainwater harvesting system
Tank construction was completed in two weeks by a local contractor and project partners.
Building the school garden
Project partners removed trash, debris, and grass from a patch of land at the school and tilled the soil for planting.
Training of students
project leads trained students on how to make organic compost, sow seeds, and transplant crops. Students helped plant the vegetables, and teachers harvested the crops for student lunches.
In San Antonio Ilotenango, community members face growing challenges from a lack of water available for irrigation and a lack of healthy food options for school meals, contributing to chronic malnutrition in the municipality. To address these issues, Climate Crowd collaborated with a Peace Corps volunteer to build a rain catchment system and vegetable garden at a local primary school. The rainwater catchment system and storage tank irrigate the school garden during the canicula (the short dry period) and extend the viability of the garden throughout the dry season, giving students access to fresh produce in their school meals all year round.
Teachers distribute harvest to community, school's new rainwater harvesting tank